SOLVARES GROUP
OUR TECHNOLOGICAL CORE:
A COMPETITIVE ADVANTAGE

The companies of the Solvares Group, through their technological core, are experts in solving complex tasks with many parameters, spontaneous temporal changes and numerous resources. We are always successful when exceptional, excellent optimisation creates substantial added value for our clients.
The Solvares Group specialises in the expansion of innovative software companies. Our companies are united by a high degree of innovation and a clear focus for joint success, while maintaining their respective strengths and individuality. The joint strength and the use of synergies resulting from the merger of strong technology providers contribute to the further development and successful growth of each individual company as well as the entire Solvares Group.

The Solvares Group unites a network of specialised, dynamic software companies for resource optimisation, with over 330 employees at 10 locations in 5 countries. The Solvares Group is headquartered in Heikendorf near Kiel. Well-known customers in the retail, consumer goods, electronics and healthcare industries benefit from over 60 years of expertise in software and consulting.
VISION
»AS RESOURCE OPTIMISATION EXPERTS WE EMPOWER PEOPLE TO ACHIEVE GREAT GOALS. AND INSPIRE THEM TO ACCELERATE THEIR NEXT MOVE«
Our focus is on the customer and the optimal fulfilment of their needs - worldwide. We combine state-of-the-art technologies and innovative software solutions with highly individual customer service to create a unique overall experience. Our SaaS solutions ensure fast and effective delivery of our products and result in our software generating added value for our customers in the shortest possible time.
Making complexity simple: solving complex challenges in resource, route and field service planning through the best and most effective field service management, field sales management and transport management solutions for customers, employees & the environment. With fresh thinking, our team always creates future-proof added value for you. Trust the market leader for resource optimisation in Europe.
For you, we think further, deeper, more networked, more economically - with all challenges and future trends. We face up to entrepreneurial, social and ecological issues. This is achieved through holistic resource optimisation with our technologically leading best-of-breed solutions.
Dynamic and sustainable growth is crucial for us. The Solvares Group follows its organic product strategy and its inorganic M&A strategy to jointly achieve the ambitious goals and develop new solutions.
What unites us is the responsibility for our actions and our goals. Protecting people - the focus is on people. Our responsible actions are geared towards the benefit of our customers, our partners, our employees, our brands and thereforce, the success of the Solvares Group: We inspire through our spirit of discovery, our agility and our creative thinking.
Each company in the Solvares Group has its own unique culture and strengths. Based on our values, collaboration and expertise, we bring these strengths together to achieve excellence. We work hand in hand with our colleagues, partners and investors to increase efficiencies and lead the Group together to ever greater success.
Many years of experience. Visionary thinking. Close cohesion.
With a strong team, the management is driving the development of the group - with a firm eye on the future.
Ivan Bagaric
Chief Executive Officer
Matthias Grünberger
Chief Technology Officer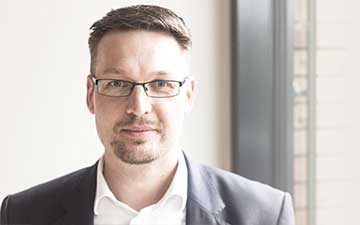 Christoph R. Hartel
Chief Commercial Officer
Benjamin Stoffels
Chief Financial Officer
Write to us, we look forward to hearing from you.
Do you have a question or would you simply like to write to us? Please use the contact form. We will answer you directly.
Or use:
Email:
welcome@solvares.com
Phone:
+49 431 23971-0
About the companies of the Solvares Group

---