BLOG    DIGITALISATION IN THE CONSTRUCTION INDUSTRY
DIGITALISATION IN THE CONSTRUCTION INDUSTRY: TOOLS AND TRENDS FOR TOMORROW'S CONSTRUCTION INDUSTRY

10 digital tools and 5 trends that move construction forward
__________________
---
7 min. readingtime
  30 March 2023  ·    Christoph Bertram
Digitalisation in the construction industry is lowing. Yet there are many innovative technologies that are changing the way we work and do business in the construction industry. We present current tools and developments that offer great opportunities for the industry and companies, including some that your competitors are likely already using.
Digitalisation is both a challenge and an opportunity for the construction industry. Digital tools offer the potential to plan faster and better, to build more efficiently and cost-effectively and to develop new business models. According to a recent
Study by PwC
, the level of digitisation among companies is stagnating and they are not yet succeeding in exploiting the full potential.
In the form of 10 tools and 5 trends, this article aims to highlight the digital opportunities for the construction industry. After the description of each tool and trend, we explain for which participants in construction this is particularly useful or interesting.
What is digitalisation in the construction industry?
Digitisation in the construction industry describes a transformation process triggered by digital technologies that covers virtually every aspect of construction and business. When describing this process, it is helpful to distinguish between the digital tools and the changes in the business or industry (trends).
I.) Digital tools for the construction industry: the tools
Digital tools can generally be divided into hardware and software, and in practice one does not work without the other (drones are controlled by software, software runs on the devices). Here we present the most innovative tools and explain where they are particularly successful.
1. The basis in advance: BIM - Building Information Modelling
Everyone who deals with digitalisation in the construction industry encounters BIM sooner or later. The abbreviation BIM stands for Building Information Modelling and describes a method of digital planning and realisation of construction projects. This improves cooperation between the parties involved and increases planning accuracy.
By creating a 3D model, all data and information of a construction project can be digitally captured, documented and linked to each other. BIM therefore enables effective communication and collaboration between all parties involved, from planning through to completion of the project.
Architects, planners and construction companies in particular benefit from BIM, as this method provides a comprehensive overview of all aspects of a construction project. But builders and investors can also benefit from BIM, as they can ultimately save time and money due to the increased planning accuracy and better cooperation between the parties involved.
2. AR/VR – Augmented Reality / Virtual Reality
Augmented reality (AR) and virtual reality (VR) are used in the construction industry primarily for visualising buildings and projects. Through AR and VR, virtual models of buildings can be created that allow users to get an impression of the planning and implementation. AR and VR therefore offer the possibility to experience and visualise buildings and projects realistically before they are actually built.
Architects and planners, but also construction companies and building owners can benefit from AR and VR. The ability to create virtual models of buildings allows potential problems to be identified and rectified at an early stage, which ultimately saves time and money.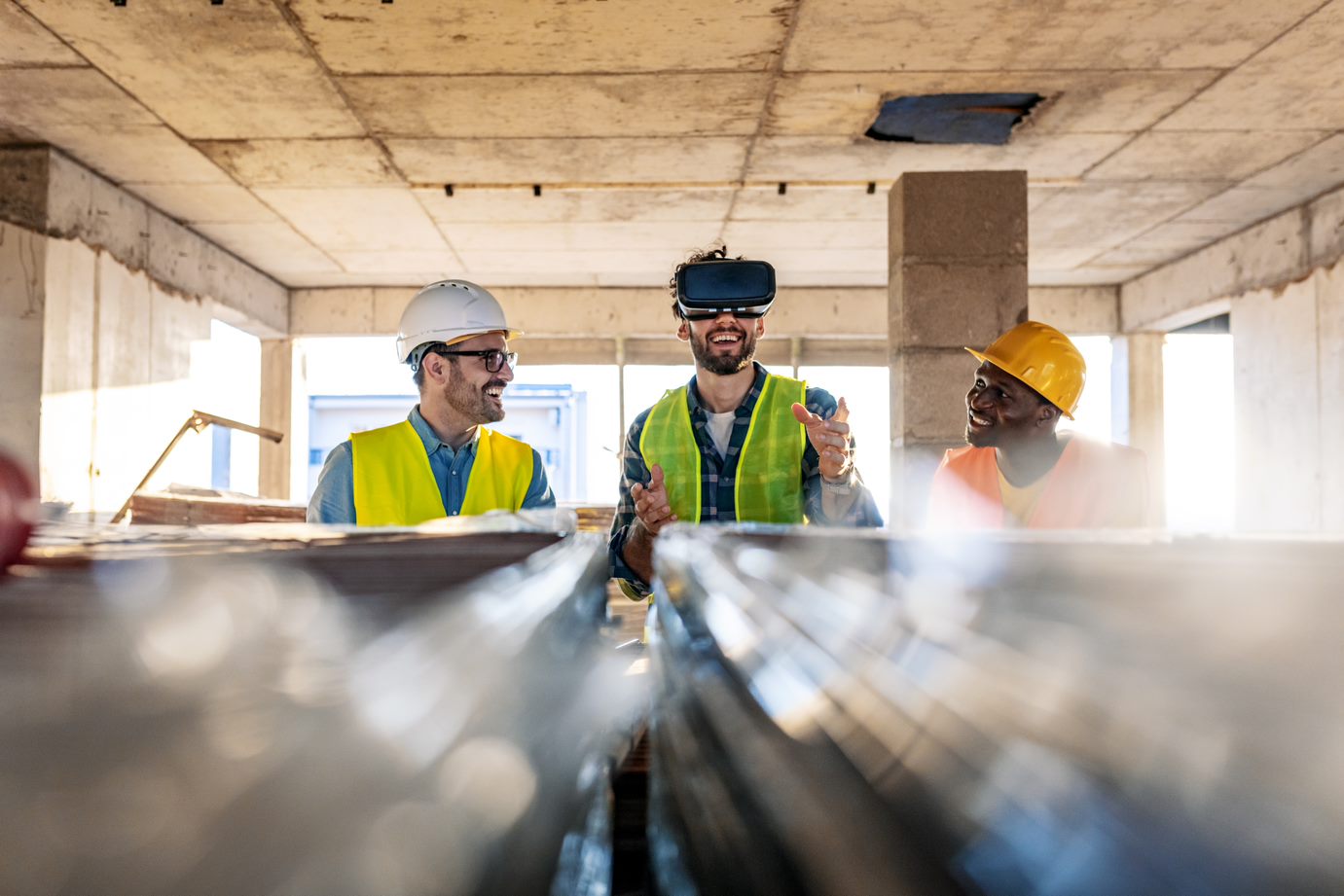 3. Drones
Drones are used in the construction industry primarily for monitoring construction sites and inspecting buildings. Drones can provide high-resolution images and videos and can easily reach where humans have difficulty. For example, many roofers already use drones to inspect roofs. Drones can also be used to survey terrain and create 3D models.

Construction companies and planners in particular can benefit from drones, as they can use them to monitor and inspect construction sites and buildings more effectively and efficiently. Drones are also interesting for surveying companies. Security and safety operations on live sites are making strides in the use of drone-based thermal imaging.


4. Robot
Robots are used in the construction industry primarily for the automated production of components and to support construction work. Robots can, for example, automatically assemble components from different materials such as concrete, steel or wood, thereby reducing production times. Robots can also be used in the demolition of buildings to carry out dangerous work and reduce the risk for workers.

Manufacturers of components in particular can benefit from robotics, as they can use it to reduce production times and improve the quality of the components. Robots can remove pressure from construction workers, as they can avoid dangerous work and are supported in physically-demainding tasks.


5. 3D printing
3D printing enables the production of components and buildings through materials applied layer by layer. This allows complex shapes and geometries to be produced that would be difficult or impossible using conventional methods. The ability to print components directly on site can also save time and money.

Construction companies and component manufacturers in particular can use 3D printing to their advantage, as it allows them to produce complex components more effectively and efficiently. Architects and planners can also benefit from 3D printing, as it allows them to integrate complex geometries and shapes into their designs.


6. Internet of Things (IoT)
The Internet of Things (IoT) is primarily a tool for industry and production. It enables the networking of machines, devices and sensors. But IoT can also be used in construction, for example to monitor and control construction sites and buildings. Sensors can measure air quality, humidity or temperature, for example, and automatically take action if necessary.

The Internet of Things is particularly interesting for building management. Companies can benefit from IoT because it enables them to monitor and control buildings and construction sites more effectively and efficiently.


7. Digital twin
Linked to the Internet of Things is the concept of a digital twin. A digital twin is a digital representation of a physical object or system. The digital twin is created through a combination of sensor technology, IoT technologies, data analysis and modelling. In construction, digital twins can be used for planning and monitoring construction projects. Through the use of sensors and other IoT devices, digital twins can be monitored in real time, which can improve the efficiency of construction projects.
By using digital twins, companies can make their decisions based on sound data, which can lead to greater efficiency, safety and sustainability. They are particularly useful for operators of buildings and facilities: digital twins can optimise maintenance and servicing by allowing potential problems to be identified and rectified at an early stage.
8. Digital fleet and transport management
Digitalisation in the construction industry affects all aspects of construction, including the transport of materials from machines to building materials. Modern software for fleet management and transport management helps to optimise transports, reduce fleet costs, and avoid wear and tear. By combining intelligent dispatching and route optimisation with telematics, driver apps and their live data, companies nowadays achieve much more transparency in their transports than they did a few years ago. And there are now targeted software solutions for individual areas such as
Building materials
and
Ready-mixed concrete
.
Software for transport management and fleet control is particularly interesting for companies with their own fleet. Efficient truck dispatching ensures punctual deliveries, compliance with legal regulations (driving and rest times) and cost-efficient tours.
THE DIGITAL TRANSPORT CONTROL CENTRE
With OPHEO, the software for your transport management, automate your truck scheduling. On-premise or in the cloud.
---
9. Cloud solutions and apps
Cloud solutions enable easy and fast access to data and applications from anywhere. This means you must no longer work at a fixed PC but can access the applications from anywhere. This allows teams to collaborate more effectively and share data more easily. Managing projects and collaborating with customers and suppliers can also be made easier with cloud solutions.
In addition, there are more and more apps specifically for the construction sector. Apps can help construction companies to optimise and simplify their work processes. For example, mobile applications can be used to record working hours or document construction sites.
Above all, construction companies, planners, project managers and maintenance workers benefit from
cloud solutions
, as it allows them to collaborate and manage data more effectively.
Apps
support employees on site and on the road.
10. CRM – Customer Relationship Management
Common practice in other sectors for some time now, more and more construction companies are also using CRM systems. CRM stands for Customer Relationship Management. Such software solutions are therefore literally used to manage customer relationships, from controlling offers and projects to marketing activities. There are also special CRM systems that are tailored to the needs of construction companies and offer functions such as the management of construction projects and cooperation with contractors and suppliers.
CRM systems are more relevant for large companies, as they contain powerful data modelling tools. For smaller companies, apps and project management tools are a good way to increase customer orientation and satisfaction.
II.) Digital trends in the construction industry: the transformation
Digitalisation in the construction industry as a change process can mirror digital trends. These trends add up to what is commonly called 'transformation', a profound change in the way we work and do business.
1. Automation
Digitalisation means above all automation. Much of what was once done by human hands can be automated with the help of digitalisation. Automating processes in construction can shorten production times and improve the quality of components. By using robots, machines and automated processes, components can be manufactured more efficiently and precisely. Data processing, for example when entering invoices, is also much more efficient when automated, versus working hours and human error.
Automation can provide relief in production as well as in data processing. Especially in times of a shortage of skilled workers, processes that can be automated should be used as much as possible.
2. Lean Construction Management
Lean Construction Management is a method for the efficient planning and execution of construction projects. 'Lean' in this context means minimising waste and using resources efficiently. Processes are continuously improved. By using lean construction management, companies can complete construction projects faster and more cost-effectively. Digitalisation supports this approach, for example through data analyses of processes and resources used.
Construction companies and project managers in particular can benefit from Lean Construction Management, as it enables them to plan and implement construction projects more effectively and save time and money.
3. Digital building management
Digital building management enables efficient management and ongoing monitoring of buildings. By using sensors and other IoT devices, buildings can be automatically monitored and controlled, see above under 'Internet of Things' and 'Digital Twin'. This can improve maintenance processes, save costs and increase energy efficiency. In addition, building management can be improved by using special
Software for Field Service Management
optimisation, i.e. through smart deployment planning and control of staff in the field.
Facility managers and building owners in particular can benefit from digital building management, as it enables them to manage and monitor buildings more effectively and save costs.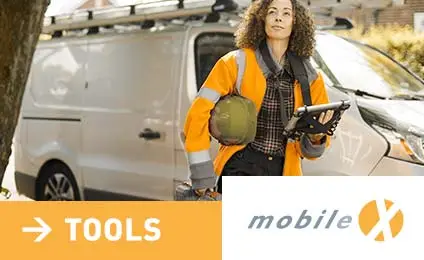 ---
THE CLOUD PLATFORM FOR SERVICE & MAINTENANCE
The mobileX-ServicePlatform is the perfect solution for your entry into the digitalisation of your processes, starting with just a few resources.
---
4. Digital Workforce Management
Digitisation in the construction industry means, not least, new ways of staff scheduling and on site cooperation and communication with the dispatch office. From shift and deployment planning to payroll accounting - with the help of digital tools, opaque paper-based processes can be overcome. The office and the construction site can enjoy new ways to communicate with each other and exchange live data, for example via apps. Digital
mobile workforce management
is fundamentally changing the way work is managed and organised.
Construction companies and project managers can rely on digital workforce management because it allows them to plan and coordinate workers more effectively and save time and money. The employees themselves also benefit, for example through improved communication and the avoidance of paperwork.
5. Digital platforms and marketplaces
Digitisation in the construction industry is also changing the way in which the parties involved find each other and how business is done. Tendering platforms and award portals have been an issue for some time and more and more platforms are emerging to broker contracts. The online marketplaces enable construction companies to find orders and projects without spending a lot of time and to work together with suppliers, contractors and subcontractors.
By using these platforms, construction companies can save time and resources and increase efficiency in contracting and execution. However, there can be a certain dependency on the platforms and sometimes the fees are a significant cost.
III.) Conclusion: Digitisation in the construction industry is advancing
Don't be afraid of digitalisation. Hardware and software are ultimately only tools. Nevertheless, digitalisation describes even more than new tools: a process of change that affects all areas of life and every industry. Keyword 'digital transformation'. Overall, digitalisation in the construction industry offers great opportunities for a more efficient and sustainable way of working - and new ways of creating value.
Further contents:
What is cloud-based software and how does SaaS benefit you?
Best-of-breed or best-of-suite: the right software strategy
Tool tips:
Digital truck dispatching and route planning with OPHEO
Rapid digitisation of service processes with the mobileX-ServicePlatform
Keeping supply chains and freight costs under control with Städtler Logistik